Public Institution "Energy Saving Facilities" was established in the year 1998. Its activities of 16 years are production of TV programmes and Renewable Energy Exposition. However since it is located in such a special place as Verkiai Manor we can talk about much older history.
In XIV century in Verkiai was established Grand Duke's of Lithuania Manor, which was remade many times and changed many owners until in the year 1780 it became property of Bishop Masalskis. One after another manor buildings has emerged which stands until today and in 1783 Gardeners house was built with small and large conservatories.
WHAT HAPPENED AFTER?
After that owners started changing again and manor started deteriorating. In the year 1906 Gardeners house with large conservatory looked like this.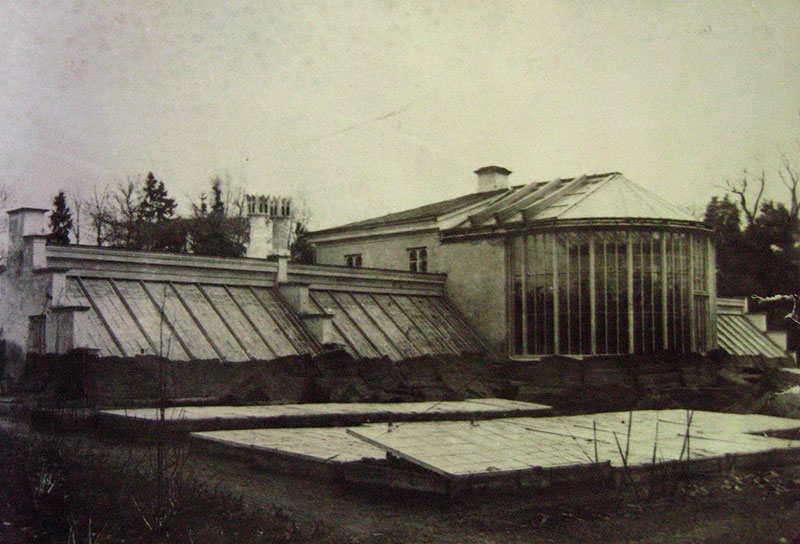 During the wars conservatories and some brick parts of the building were destroyed but it was started to be restored in the year 1995.  Monument Restoration Institute architect's Saule Domanskiene prepared project turned into a body while installing energy saving technologies which was unheard of in Lithuania at a time: modern heating system, sealed windows with double glazing, wall and floor insulation with rock wool. Many companies which started their activities (list of sponsor companies) contributed with enthusiasm to the restoration of this cultural heritage with effective western materials tried in Europe's old towns. And in 1997 Energy Saving Facilities Exposition was opened.
In the year 2000 Small conservatory was started to be restored (author of the project architect Saule Domanskiene). In 2002 Alternative Energy Center started to function here.
Exposition was visited by pupils, biking and hiking participants of Verkiai and Pavilniai Regional Park , individual park visitors. In year 2012 a project for Nordic Council of Ministers was prepared in which additionally to other activities basic renewal of exposition was included. After a renewal which lasted one year in the end of 2013 exposition welcomed visitors.
Sponsor list of renewed exposition:
The history of our TV activities also can hardly start on 1998 because our creative group of PI "Energy Saving Facilities" consists of people who were creating TV ecological programmes since 1980.
TV programme "Start With Yourself" (2003 – 2013) about civil approach to ecological problems
TV programme "Nature And Us" (1980-1988) about environmental problems.
TV broadcasted live "Green Wave" (1988-1989) about Lithuanian Green Movement.
TV programme "Eco Courier" (1989-1990) concentrated eco updates.
TV programmes "One World" (1990-1992) about commonality of ecological topics between Lithuania and the World.
TV programme "There Is Nothing Bad That In The End Doesn't Turn Out Well" (1992-1998) about energy saving, renovation, renewable energetics, new technologies. A contest "My house. Energy Saving And Environment" was based on this TV programme. Its winners used to present warm, innovative houses in TV programme and after that they used to have a trip to Denmark, Germany and Sweden. Partners of contest were Lithuanian TV, Ministry of Construction, Agency of Energy and Lithuanian Green Movement.
Since 1998 TV programmes were created at PI "Energy Saving Facilities" creative and technical base. They were broadcasted by various TV channels: Lithuanian Television, TV1. Channel 5, Lietuvos Rytas TV, Baltijos TV. That was:
TV programme "DNA" (1998 – 2001) about impact of environment on human.
TV programme "Stop – Nature" (2001 – 2003) about influence of humans on climate change and possibilities of resource saving
TV programme "Iguana" (2002-2003) about Lithuania and World nature.
TV programme "For Now And For Future" (2006 – 2007) about values and preservation of protected areas.
TV programme "Cycle" about waste management.
TV programme "Hello, Nature" (2010) about protection and reestablishment of forests.
In the end of 2013 with the help of Nordic Council of Ministers (NORDEN) Verkiai Renewable Energy Exposition was fundamentally renewed. TV programmes, films and activities of exposition are closely connected especially now when we plan to expand common activities after renovation of exposition since we started close collaboration with Vilnius city schools.